WHITEPAPER
5 Ransomware Protection
Best Practices
Download our whitepaper to learn:
✓ How cybercriminals get your data
✓ 5 best practices from the NIST framework
✓ Actionable recommendations with Veeam® Backup & Replication™

Complete the form below to begin your download!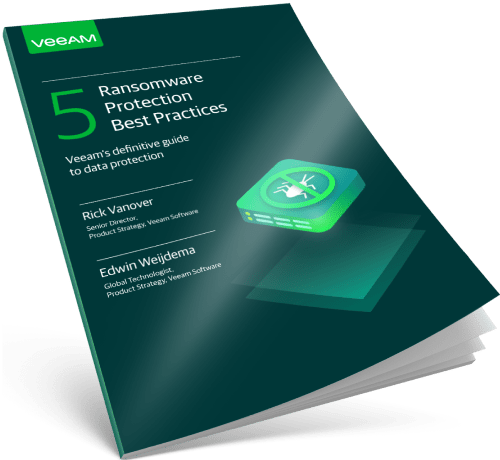 The war against ransomware is real and everyone must be prepared for an attack on their data
By preparing in advance, you can align to a framework that provides a reliable strategy when status quo operations are disrupted. The technical advice in this paper is a great resource for backup administrators, site reliability engineers (SRE) and technology management professionals. Prodatix is a Veeam certified Architect Gold partner
We have the experience, training, and certifications to correctly use Veeam Microsoft 365 Backup software to protect your company. With thousands of backed-up accounts in industries ranging from construction, to medical, to financial and hospitality, we are confident that our expertise, combined with our secure and compliant data center, will ensure peace of mind and the ability for you to grow confidently. A few of our clients can help tell our story:
"Prodatix has been protecting our data and email, etc. for many years. They provide peace of mind and are vigilant in protecting Outlook email and Office data. I would absolutely recommend them to anyone who is looking for a company to handle all of their email and data backup needs. They are very good."
Derek Wright – President, Suntec Concrete – AZ, UT, CO, NV
"Our email and Office apps are at the center of all our communication.  We need to be HIPPA complaint and be able to hold onto email for up to 7 years.  Prodatix keeps our data safe and can restore quickly in the event a doctor needs something quickly for a patient.  We trust their abilities and haven't been disappointed."
Joyce Schweikert – Director, Scottsdale Eye Surgery Center